Women in the British Army of the 80's
In the 1980's women started to play an increasingly vital role within the armed forces. In the field they wore the same uniform as there male counterparts, were trained the same and were by 1982 armed the same . They also had the same chance at promotion. There were two branches within the British Army that allowed women to serve; these being the WRAC and QARANC.
The Women's Royal Army Corps (WRAC)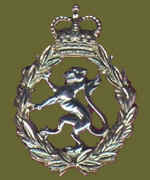 Uniforms of the WRAC
© MOD
WRAC service women carried out there basic training at the Guildford, Surrey. Once basic training is completed they then carry out their training with the regular units along side their male counterparts. Once qualified they are then posted to their respected army unit. The main difference is that a WRAC could not be placed in a War time role as they were not allowed to partake in frontline duties.
The WRAC were not allowed to carry arms, but in 1982 the Army allowed them to carry arms for self defence. This was in the main a Browning HP pistol or the Sterling SMG, but it is also not unheard of to be trained in the use of the L1A1 SLR and it is known that in the late 1980's they were issued SLR's as personal weapons.

In Northern Ireland, the WRAC was employed as female searchers by the various units and were often referred to as "Coffee Pot" and female members of the UDR were "Green finches" due to the colour of there uniforms.

They were not allowed to be armed even for self defence, and were usually escorted by a Armed male college. I suppose the idea being that the terrorists would not shoot an unarmed female member of the armed forces for fear of a media backlash.


An interesting picture in that both these members of the WRAC are armed with SLR's contrary to regulations.
© Middlesex Yeomanry


Whilst in the field members of the WRAC live in the same conditions as their male counterparts.
© 38 Signal Regiment
WRAC Dress Regulations:
No.1 Dress (W1):
Forage Cap, dark green

Shirt, white with tab tie

Gloves, black leather (white on ceremonial occasions)

Shoes, black leather, flat heel, laced, or court shoes

Jacket, dark green barathea

Skirt, dark green barathea

Hosiery in the authorised shade

This order of dress is authorized for wear by:
No.2 Dress (W2):
Jacket, lovat green

Skirt, lovat green

shirt, white with tab tie

Forage cap, dark green or beret, dark green, at CO's discretion inside the barrack area

Gloves, leather black

Hosiery in the authorized shade

Shoes, black leather, flat heeled, or court shoes

Greatcoat or raincoat
Tropical Dress (W6):
Beige dress with corps buttons

Metal badges of rank - Berlin/BAOR/SHAPE

White cloth badges of rank - Tropical stations

Shoes court, white or beige, or sandals, white or brown - Tropical stations

Shoes court, black or sandals white - Berlin/BAOR/SHAPE

Forage cap. dark green or beret, dark green at CO's discretion

Shoes, flat black, to be worn on parade

Socks, ankle white, with white sandals, at CO's discretion

Hosiery need not be worn with Tropical Dress unless instructions are issued in connection with a specific occasion.
Working Dress/Combat Dress (W7):
Jacket, combat

Trousers, men's, lightweight (Working Dress only)

Trousers, Combat

Shirt, olive drab

Jersey, woman's, or jersey, heavy wool

Tie khaki, if wearing jersey, woman's

Boots DMS, with puttees/Boots, combat high

Socks, green

Beret, dark green

Gloves, combat

Hoods, combat (Combat Dress only)

Liner, combat (Combat Dress only)

Cloth badges of rank
Coverall/Overall clothing (W12):
Protective clothing worn over uniform with beret and boots DMS and puttees or boots, combat high.
Barrack Dress (W13):
Forage cap, dark green or beret, dark green, at CO's discretion

Skirt, barrack dress, lovat green

Shirt, white with tab tie, or shirt, white with dark green braid tie

Jersey, woman's

Hosiery in authorized shade

Shoes, black leather, flat heel, laced, or court shoes with medium heel

Badges of rank
Summer Blouse Order (W14):
Skirt, lovat green barrack dress

Shirt, woman's white, blouse type

Forage cap, dark green or beret, dark green, at CO's discretion

Stable belt, WRAC

Jersey, woman's may be worn

Hosiery in authorized shade

Shoes, black leather, flat heel, laced, or court shoes with medium heel

Badges of rank

Raincoat if required
Shirt Sleeve Order (W14):
Shirt, Olive drab, open necked, rolled sleeves

Trousers, men's, lightweight

Boots, DMS with puttees/Boots, combat high

Socks, green

Beret, dark green
Cooks Protective Clothing:

© HQ UKLF


© UKLF


WRAC on exercise in Norway
© MOD
Queen Alexander Royal Army Nursing Corps (QARANC)
still under construction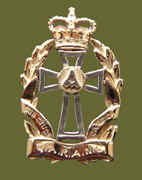 | | |
| --- | --- |
| © MOD | © MOD |

QARANC Nurses undergoing yearly fitness tests
© HQ UKLF
Link: QARANC web site